Braces behind your Teeth
You've already decided that you want straighter teeth, and you're wondering if there is a better, truly invisible way. The answer is INBRACE.
Completely convenient, unlike plastic aligners, there is nothing to remove for every meal, every cup of coffee, every snack, important meeting, or night out with your friends.
INBRACE Smartwires let you brush and floss normally while GentleForce technology moves your teeth following the principles of the gold standard in orthodontics.
With nothing to see, there is nothing to feel self-conscious about with INBRACE. Chase your dreams confidently, INBRACE is behind you every step of the way.
The science behind INBRACE.
Healthy Tooth Movement
Light continuous force has been at the core of academic research on healthy tooth movement. Applying continuous light forces allows cells known as osteoblasts and osteoclasts to work in harmony to build new bone and reabsorb old bone while teeth are on the move. Keeping gums and teeth healthy throughout treatment is our goal.
Space Age Material Science
INBRACE Smartwires are made of a space age material called nitinol. Referred to as shape memory wire, nitinol is truly a smart material. Not only is nitinol smart, it has been in use for decades in life saving cardiac implants. INBRACE Smartwires realize the full potential of nitinol by moving teeth simultaneously in all six degrees of freedom.
Friction Free Mechanics
Our Smartwire design includes all of the intelligence required to move teeth to their destination. To accomplish this feat each locking loop is fixed to the back of each tooth, removing the sliding mechanics (and uncomfortable adjustments) of traditional braces. This is the DNA behind GentleForce technology and INBRACE Smartwire design.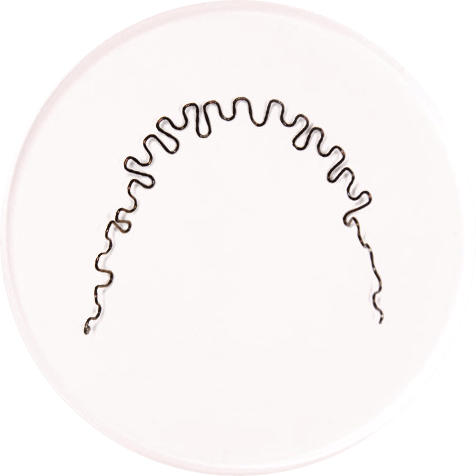 Did you know your insurance may cover up to 70%? See how affordable your new smile could be.