How to Get a Straight Smile Without Braces
Do you want to straighten your teeth but hate the idea of wearing metal braces? Are you looking for a discreet, comfortable, and convenient way to improve your smile? If you answered yes to any of these questions, then you might be a good candidate for Invisalign.
Invisalign is a revolutionary system that uses clear, removable aligners to gradually shift your teeth into their ideal positions. Unlike braces, Invisalign aligners are virtually invisible, so you can smile with confidence. They are also removable, so you can eat, drink, brush, and floss normally. And they are more comfortable than braces, as they don't have wires or brackets that can irritate your gums or cheeks.
At Quintero Orthodontics, we are proud to offer Invisalign service to our patients in South Miami, Florida. Dr. Quintero is an experienced and certified Invisalign provider who can help you achieve your smile goals with this innovative technology. He will create a customized treatment plan for you based on a 3D scan of your teeth and monitor your progress every step of the way.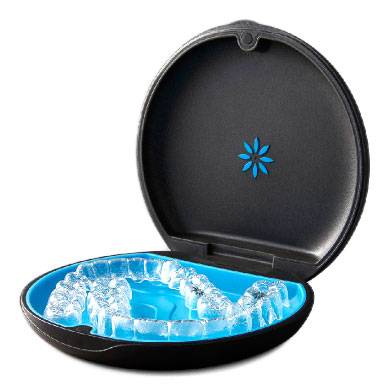 Benefits of Invisalign Service at Quintero Orthodontics
Invisalign can treat a variety of orthodontic issues, such as:
Crowded teeth
Spaced teeth
Overbite
Underbite
Crossbite
Open bite
By choosing Invisalign service at Quintero Orthodontics, you will enjoy the following benefits:
Faster results: Invisalign can straighten your teeth in as little as 6 months, compared to 18 months or more with braces.
More predictability: Invisalign uses advanced software to show you how your teeth will move and what your final smile will look like before you start treatment.
More comfort: Invisalign aligners are made of smooth and flexible plastic that fits snugly over your teeth and does not cause any discomfort.
More convenience: Invisalign aligners are easy to put on and take off, and you only need to visit our office every 6 to 8 weeks for check-ups.
More freedom: Invisalign aligners do not interfere with your lifestyle or diet. You can eat whatever you want and participate in any activities you enjoy without worrying about damaging your aligners or your teeth.
How to Get Started with Invisalign Service at Quintero Orthodontics
If you are interested in Invisalign service at Quintero Orthodontics, the first step is to schedule a consultation with Dr. Quintero. He will examine your teeth, take digital x-rays and impressions, and determine if Invisalign is right for you. He will also answer any questions you may have about the process, the cost, and the expected outcome.
If you decide to proceed with Invisalign treatment, Dr. Quintero will use the iTero Element scanner to create a 3D model of your teeth and design a personalized treatment plan for you. You will be able to see how your teeth will move and what your final smile will look like on a computer screen.
Dr. Quintero will then send your treatment plan to the Invisalign lab, where they will create a series of custom-made aligners for you. Each aligner will be slightly different from the previous one and will apply gentle pressure on your teeth to move them gradually.
You will receive your first set of aligners at our office and Dr. Quintero will show you how to wear them properly. You will need to wear each aligner for about 20 to 22 hours per day for two weeks before switching to the next one in the series. You will also need to visit our office every 6 to 8 weeks for adjustments and monitoring.
The duration of your treatment will depend on the complexity of your case and how well you follow the instructions. On average, Invisalign treatment takes about 12 months for adults and 18 months for teens.
Invisalign is a smart and simple way to get a straight smile without braces. It offers many advantages over traditional orthodontic methods, such as faster results, more predictability, more comfort, more convenience, and more freedom. If you are ready to transform your smile with Invisalign, contact Quintero Orthodontics today and schedule your consultation with Dr. Quintero. He will help you achieve your smile goals with his expertise and care. Don't wait any longer, start your Invisalign journey today and discover the difference it can make in your life.
Did you know your insurance may cover up to 70%? See how affordable your new smile could be.